Xiaomi Redmi Note 5 Pro Specifications And Review


The previous year 2017 is been a great year for Xiaomi with its many hit smartphones like Redmi Note 4, Mi A1, Mi Y1 and Redmi 5A( India ka Smartphone). Xiaomi New year begins on 14 Feb when its launched it's most anticipated Smartphones Redmi Note 5 and Redmi Note 5 Pro.
You can clearly say that Redmi Note 5 Pro is an upgrade for Redmi Note 5 with its ultra-fast and new Snapdragon 636 processor and dual secondary and primary camera.




Redmi Note 5 Pro is a complete beast at the range of below 15 k smartphone with the great feature and handy price.
These smartphones Redmi Note 5 and Redmi Note 5 Pro is creating a buzz already in the market with its slim body and Unique display and Front facing design.
Xiaomi Mobile don't provides earphone so it a good decission to buy a pocket friendly earphone so making it easier here is a list of Best Earphones Under 1000 Rs.
The Xiaomi is a Well established brand famous for providing great feature smartphone at an affordable price and that's what it's doing with Redmi Note 5 and Redmi Note 5 Pro.
You can also check our latest Reviews on Xiaomi Redmi Note 5 Pro
Xiaomi Redmi Note 5 Price and Release date


The Xiaomi Comes with two smartphones on 14 Feb Redmi Note 5 a Redmi Note 5 Pro. Redmi Note 5 Pro comes in two variants 4gb/64 at the price of 13,999 Rs and 6gb/64 at the price of 16,999 Rs. The first sale of Redmi Note 5 is on 22 Feb 2018.
Key Features
Display

5.99 Inches (18:90)

Weight

181 gm

Processor

1.8GHz octa-core Qualcomm Snapdragon 636

Camera

Primary – 12+5 mp Dual Camera

Secondary – 20 mp

Ram

4gb/6gb

Storage

64gb

Operating System

Miui 9.2 ( Android 7 Nougat)

Price

13,999/16,999

Battery

4000 mah
Display
The Redmi Note 5 Pro comes with a big display of 5.99 Inches with the aspect ratio of 18:9 same as the Redmi Note 5. The display is more bright and brittle as it has 2.5D curved Corning Gorilla Glass display. Display quality of Redmi Note 5 Pro is also same as Redmi Note 5.
The display is a big game changer for Xiaomi as the display cover almost whole of the mobile body. As I already mention the aspect ratio which is 18:9 that changes the whole design.
With the bigger display, watching videos and playing games will provide more pleasure and viewing to our eyes.
The display angle is perfectly amazing and the display can clearly readable in bright sunlight as well as in low light. The screen seems ultra amazing mostly at night.
While the display features and size is exactly same in the two smartphones but there are more features that are incredibly amazing waiting for you below.
Design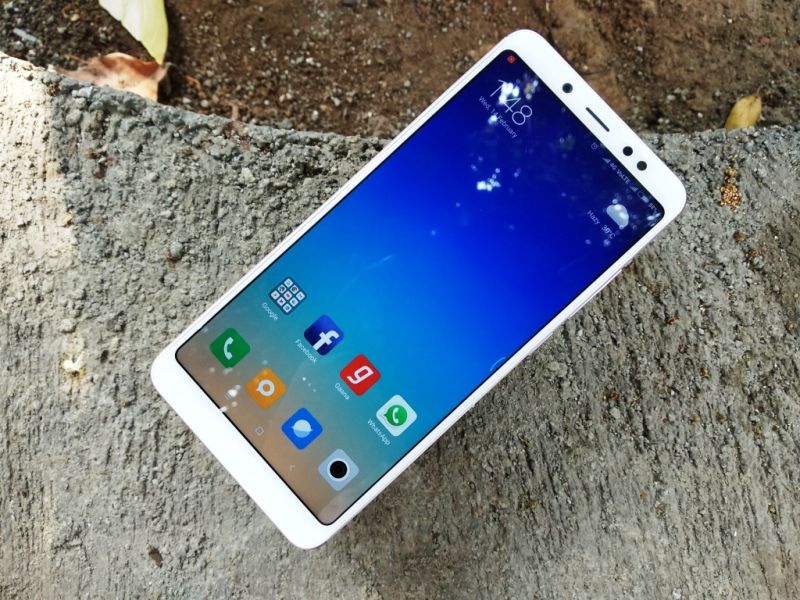 The beautiful look of Redmi Note 5 pro provides an eye struck moment for your eye when you saw it for the first time. Although the front facing side of both the smartphone is same we can see some changes while sawing it from the back. As the secondary camera alignment is different in Redmi Note 5 Pro then it's predecessors.
The Navigation keys are missing from the front as the display cover more of the body area to provide a pleasant look.
The solid metal body provides more durability to this smartphone as a little drop doesn't create any spots in it. The body design is same as in both the smartphones.
Talking about the weight the Redmi Note 5 pro is 181 gm handset a quite light but still a bit heavy if you compare it with Redmi Note 4 which is 175 gm handset.
Redmi Note 5 Pro comes in four different color variants namely Black, Gold Rose, Gold, and lake Blue. All the color are delightful but for an extra addition to your info, Many buyers want to buy the Rose gold and gold colors. As my personal recommendation is Black.
Broadly you can see there is not much difference between the design factor in both the handset Redmi Note 5 and Redmi Note 5 Pro.
Processor
Qualcomm Snapdragon 636 is doing its debut with the Redmi Note 5 Pro. The Snapdragon 636 is fast as compare to Snapdragon 625 which is built in Redmi Note 5 and previous Xiaomi Predcidiors smartphones. 
The Redmi Note 5 Pro is much faster than then Redmi Note 5 as we compare both the smartphone's side by side.
The apps loading time is much faster and their performance are much better. You can also relate the performance factor by this order Snapdragon
625>Snapdragon630>Snapdragon636.
For testing this processor we played Plague Inc., Pokemon Go, Asphalt 8 and Shadow fight 3 in It and it's a pure enrich with a better quality graphics and a Non- stopping experience. As compare to Redmi Note 5 in which we faced some hinderance while playing Pokemon go.
Qualcomm Snapdragon provides 40% much faster performance than Redmi Note 5 as well as its predecessor.
It is the main difference between the Redmi Note 5 and Redmi Note 5 pro. If you need a speedy processor than you need to switch your idea towards the Redmi Note 5 Pro.
Battery
The battery seems to be quite long lasting with a 4000 mah battery as same as in Redmi Note 5. The battery looks big but if you look it from Xiaomi point of view Xiaomi provides 4000 mah battery in its 6000 handsets too so this is not a big reason to avoid this cool smartphone.
While testing the 4000 mah battery of Redmi Note 5 we get to know that the battery diminishing rate of Redmi Note 5 Pro is same as of Redmi Note 5. The battery is not quite a game-changing feature in Redmi Note 5 Pro.
If you never feel the power of the 4000 mah battery of Xiaomi handset than let me tell you its quite impression you can perform your day to day activities and it still gives you a battery backup of almost 2 Days.
As per stat, Redmi Note 5 Pro provides 17 days of Standby battery backup and 8.5 hours of Gaming a little less than Redmi Note 5 as compared to.
User Interface
The User Interface is quite a disappointment factor for Xiaomi fans as the Redmi Note 5 Pro has Miui 9.2 User Interface the same as their predecessors and Redmi Note 5. The Android 7.0 Noughat using smartphones is still behind the most of the smartphone Which is using the Android Oreo.
The Miui 9 gives you a different and as well as more efficient experience if you are using Android Phones before then you realize how fascinating the Miui 9 is.
Miui 9 also provides a power efficient and fast experience than any other user interface. It also helps in adding some hours to mobile standby. 
The bad news is there is no sign of Android Oreo update in the Redmi Note 5 pro. This is quite like a tradition for Xiaomi to not giving the latest Android to its Users.
Camera




Xiaomi Redmi Note has 12+5 mp dual camera at its back and 20 mp of camera at its front for talking sharp and beautiful selfies. The camera quality is Superb in daylight as well as in low light.
Rear
The Xiaomi Redmi Note 5 Pro is coming with secondary  12+5 mp dual camera. You can say that it is the main feature for paying an extra amount 3000 rs over the Redmi Note 5. The dual camera work like this the 12 mp is gonna focus on the object and the other 5 mp is gonna focused on the Background to get a Clear portrait photo.
The Redmi Note 5 Pro camera is not so good Like Mi A1 as it has 12+12 mp dual camera but comparatively, you can get a better camera with a fast processor here.
The Night Photos are quite decent when we compare the camera quality of Mi A1 and Redmi Note 5 Pro at night the images are more defining with Redmi Note 5 Pro.
A new and better camera with most advanced features is waiting for you.
Source: gizmochina.com
Front 
The 20 mp front camera is clearly a big deal there is no comparison between the Front camera of Redmi Note 5 Pro and Mi A1 or even Redmi Note 5. The Xiaomi with its 20 mp camera is challenging the top selfie experts brands like Oppo and Vivo. 
The 20 mp is capable of taking a perfect defining selfie in bright light as well in low light. 
In our usage, we have found that the selfies with Redmi Note 5 Pro are quite defining a perfect relation between a real life and Beautification. 
We compare Oppo selfie expert camera and Xiaomi Redmi 5 Pro front camera and realize that the image is looking good with Oppo's camera but as far as the real images are concerned the Redmi Note 5 Provides more real images than Oppo.
The camera factor is clearly a good factor for buying a Redmi Note 5 pro over Redmi Note 5.
Aditional Camera Feature 
The Redmi Note 5 Pro has an additional Face recognition feature which is quite helpful in unlocking your smartphone with your face as a lock. We know you have about heard this feature in brand New iPhone X but this time its Xiaomi who is taking charge of it. Although Xiaomi is known as the Chinese apple for a reason.
Our Verdict On Xiaomi Redmi Note 5 Pro
Xiaomi Redmi Note 5 Pro is a beast in terms of comparison we compare it to the Mi A1, Redmi Note 5 and it still beats them all. Redmi Note 5 is the best smartphone in terms of processor and camera from all its predecessor. The back camera of Mi A1 is a concern but if you compare the overall mobile than Mi A1 doesn't stand close to the All-new Redmi Note 5 Pro
If you have a little bigger budget than we recommend you to buy Redmi Note pro over Redmi Note 5. Investing Some more thousands can pay a great deal which has a super worth at this price.
Xiaomi Redmi Note 5 pro Review Xiaomi Redmi Note 5 pro Review Xiaomi Redmi Note 5 pro Review Xiaomi Redmi Note 5 pro Review Xiaomi Redmi Note 5 pro Review Xiaomi Redmi Note 5 pro Review Xiaomi Redmi Note 5 pro Review Xiaomi Redmi Note 5 pro Review Xiaomi Redmi Note 5 pro Review Xiaomi Redmi Note 5 pro Review Xiaomi Redmi Note 5 pro Review Xiaomi Redmi Note 5 pro Review Xiaomi Redmi Note 5 pro Review Xiaomi Redmi Note 5 pro specifications Xiaomi Redmi Note 5 pro specifications Xiaomi Redmi Note 5 pro specifications Xiaomi Redmi Note 5 pro specifications Xiaomi Redmi Note 5 pro specifications Xiaomi Redmi Note 5 pro specifications Xiaomi Redmi Note 5 pro specifications Xiaomi Redmi Note 5 pro specifications Xiaomi Redmi Note 5 pro specifications Xiaomi Redmi Note 5 pro specifications Xiaomi Redmi Note 5 pro specificationsXiaomi Redmi Note 5 pro specifications Xiaomi Redmi Note 5 pro specifications Xiaomi Redmi Note 5 pro specifications Xiaomi Redmi Note 5 pro specifications Xiaomi Redmi Note 5 pro specifications Xiaomi Redmi Note 5 pro specifications Xiaomi Redmi Note 5 pro specifications Xiaomi Redmi Note 5 pro specifications Xiaomi Redmi Note 5 pro reviews Xiaomi Redmi Note 5 pro reviews Xiaomi Redmi Note 5 pro reviews Xiaomi Redmi Note 5 pro reviews