With the Increase of Playing games, many want to record their games and share with their friends Online for them, we come to organize a list of Best Game Recording Software for Windows. Now, these days many YouTubers are willing to upload their recording game videos to earn money but this is just for your knowledge not a concern of yours. This is a perfect option for them to acknowledge the best video recording software and hit it with your subscribers.
From the Rise of the Game PUBG, there is a lot of Shooting Games lovers out there searching for the best Games recording software to record their Shootout and share it with their friends.
There are many Games Recording Software on the Internet but only a few which are probably off the mark so this article usually relates to which are the Best Games Recording Software and Cons and Pros.
Best Game Recording Software For Windows Are
       1. Open Broadcaster Software
Open Broadcaster Software is one of the best game recording software that you might get. Many gamers prefer Open Broadcaster Software or OBS because of it a simple screen recording software with Open Source and flexible at the same time. You can just record your game and play it side by side. It is capable of recording Mp4 & Flv formats and uses of Graphic memory to do it faster. It also some cool and great features apart from if you are new it also provides tutorials feature to beginners. Some of the features of OBS is Push to talk Mode & Custom Watermarks.




Compatibility: Windows 10, 8.1, 8 and 7, macOS (10.11 and newer), Linux (Ubuntu 14.04 and Up)
Pricing: Free Download OBS
      2. Nvidia GeForce Experience
You heard the name Nvidia many times if you are a gamer. It is the biggest graphics card making company in the gaming world and if you have a Nvidia Graphic card then you already get many popups for installing the GeForce Experience on your pc. It allows you to record the games and it is pretty simpler than other except the only disadvantage here that you have to have a Nvidia Graphic Card on your device to use this Nvidia GeForce Experience and also it doesn't provide many features like other games recording software. Just to add a little bit information it is free of Cost and looks very cool.
Compatibility: Windows 10, 8.1, 8 and 7
Pricing: Free Download Nvidia GeForce Experience
      3. Dxtory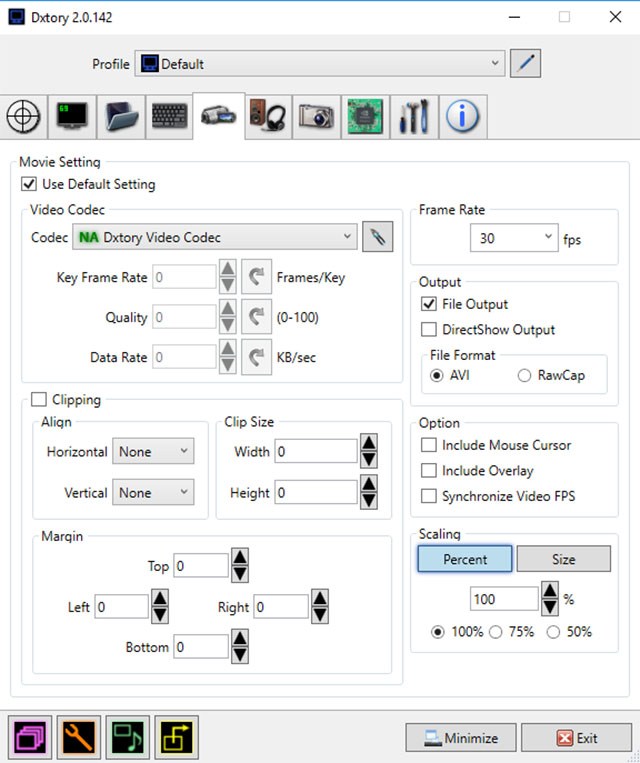 Dxtory is another best screen recording software because of its user interface and lots of features it provided. The Dxtory is considered as one of the lightest screen recorders in the list. It also affects very less GPU or CPU whatever you put it on. You can also put the setting like the screen automatically recorded when the software is active. There is an option in which you can select whether mode you want to run this software on GPU or  CPU for recording. Free and Paid versions are available.
Compatibility: Windows 10, 8.1, 8, 7, Vista and XP
Pricing: Free Trial, $35 for 1 license Download Dxtory
      4. AMD Relive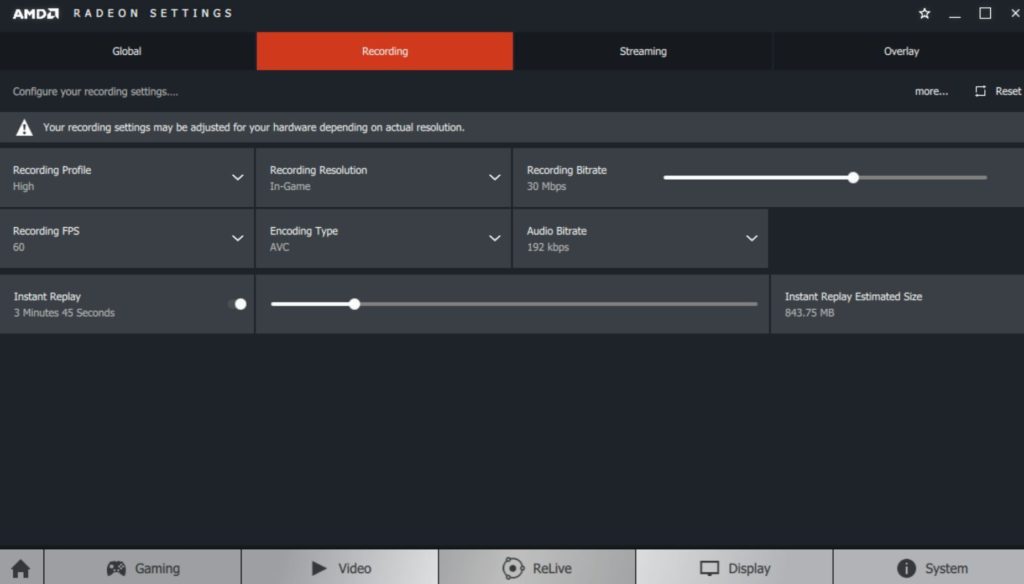 Like Nvidia AMD also has its own Game Recording Software AMD Relive. This game recording software provides the best game recording like the Nvidia Geforce. AMD Relive also run on the GPU so your CPU performance is not get affected. The software comes with support for upscaling recording as, if you're playing at 740p, you can still record at 4K UHD. This is a free software and it can only be used in the pc which has an AMP graphics card. If you want to try games recording software then you have to give it a try.
Compatibility: RX Vega, 500 Series Graphics products and newer only supported on Windows 10 and 7 64-bit; Radeon R9 Fury, Radeon Pro Duo and Radeon RX 400 Series supported on Windows 10, 8.1 and 7 64-bit
Pricing: Free Download AMD ReLive
     5. Streamlabs OBS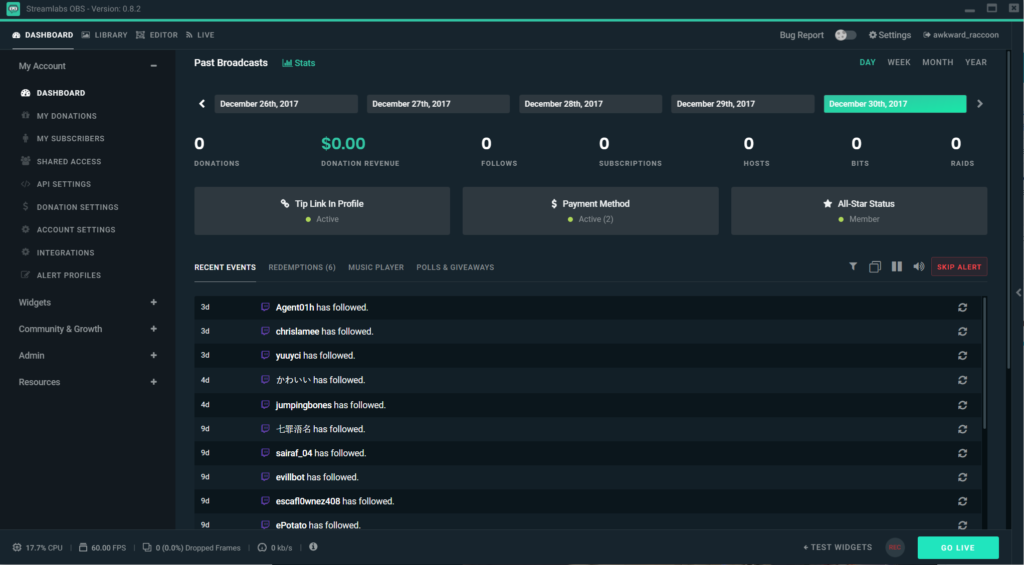 Streamlabs OBS is one of the best game recording software as it has a very user friendly interface you can't get any more user friendly like this one. With the huge list of features, the Streamlabs OBS remains the first choice of the many gamers. This software can connect to your Streamlabs account and allows you to import all the tools directly from the website without doing anything. The Streamlabs OBS is famous because of its user friendly interface and its huge feature list and also it is free.
Compatibility: Windows 10, 8.1, 8 and 7
Price: Free Download Streamlabs OBS
      6. Bandicam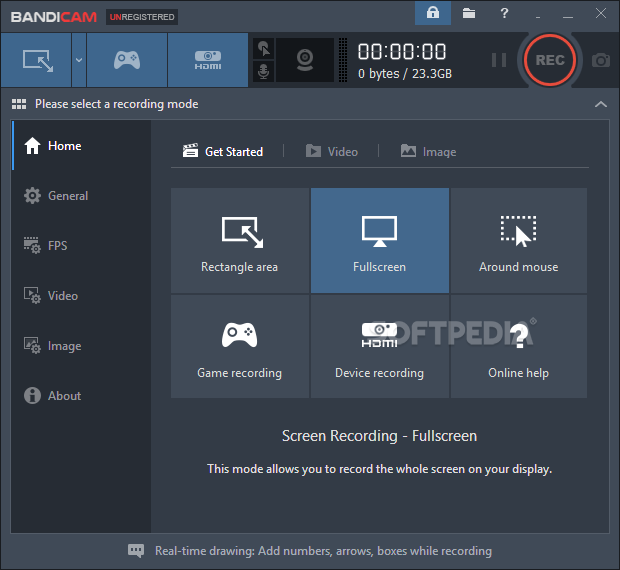 Bandicam is another Widely popular Screen Recorder which always comes to mind when there is a talk about Screen recording software. This screen recording software is popular because it can record high resolution bitrates and frames. It also provides the compression from high resolution to lower resolution in order to achieve great quality. This is totally depends on the size of your device but you don't need to worry as you always get the best quality.
Compatibility: Windows 10, 8.1, 8, 7 and Vista
Pricing: Free Trial, $60 for 1 license Download Bandicam
      7. Fraps
Fraps is also considered as one of the best Game Screen recording software as also produce the high quality video. Many gamers will recommend you this game screen recording software as it is very user friendly and let you capture screen up to 7680 x 4800 resolution with custom frame rates from 1 to 120 frames per second.  The quality and the user interface is what makes it a best screen recording software recommend by all the hardcore gamers.
Compatibility: Windows 10, 8.1, 8, 7 and Vista



Pricing: Free Trial, 37$ for 1 License Download Fraps
       8. Action
Who can forget action if we are going to talk about the best screen recording software for windows. Action is handy screen recording with a bunch of features. It runs on the CPU but for acceleration the task it uses GPU so that there does not get more weight on CPU. You can create high quality video as it provides a better quality recording upto 4k. This software also came with the features like streaming your video to YouTube, Hitbox, Twitch, Livestream and other popular platforms. Some other features of Action are cropping, effects like slow motion.
Compatibility: Windows 10, 8.1, 8, 7 and Vista
Pricing: Free Trial, $29.95 per user Download Action!
     9.  XSplit Gamecaster
XSplit Gamecaster is yet another best screen recording software which has very easy user interface just by pressing one button and your gaming recording starts. I personally used this game recording software earlier and it done a excellent job. Some of its features are  picture-in-picture mode, watermarks, video annotations and social media integration. XSplit Gamecaster also provides the features like editing video, cropping and easy access to share the video on social networking sites.
Compatibility: Windows 10, 8.1 and 7
Pricing: Free, Premium Licenses starting at $8.32/mo Download XSplit Gamecaster
        10. D3DGear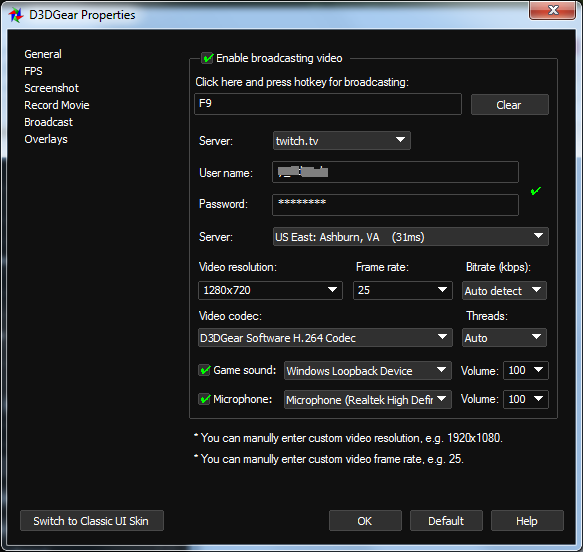 D3DGear is yet another powerfull game recording software you can use for free on your windows pc. This software has the very user-friendly interface and it is very lightweight. It provides a bunch of features even it look small or don't just pick a software by its looks. D3DGear also provides the real time compression so that even you have less space you can store good quality video. It uses GPU to accelarate the video recording so that the CPU might not get over loaded. Basically D3DGear isa a smart and light pack screen recorder with some great features.
Compatibility: Windows 10, 8.1, 8, 7, Vista and XP
Pricing: Free 15 Days Trial, $29.85 for 1 License Download D3DGear
      11. Windows Game DVR
Windows Games DVR is a inbuilt Screen recorder which comes with the Windows 10 only. With this, you can record your gaem but in few less resolution, it allows upto 1080 p you can also say that it is fro begineers. It's a kind of trick first you have to start the recroding by pressing default shortcut of Win + Alt + R and then you need to start the running game by pressing keyboard shortcut Win + G. It is absolutely free that makes it good otherwise you can use any of the software from this list.
Compatibility: Windows 10
Pricing: Free
Our Verdict On Best Game Screen Recording Softwares
These are the best best game screen recording software you can use if you are loooking for one. All can record a great quality video with quick speed. Some may differ by the features but you can pick according to your work. A i already mention if you are  a youtuber and want to earn money from sharing recording money than get a paid one from this list as the list is made as to keep in mind of both the begineers and freeshers. If you are using one and planning to using one comment for your game screen recording software. And if you think we missed something than we love to hear it  from you in the comments section.
Rohit, an Oxford computer science graduate, is a tech aficionado and vibrant blogger. His zest for all things tech shines in his engaging posts, where he blends academic insights with a genuine passion for innovation. With Rohit, readers embark on an exciting journey through the ever-evolving world of technology.