You are single, you remain single for the whole year but it's only Valentine day that hit you and realizes you that you are alone and single so don't worry here is a solution for you all the best free dating apps for Android. It's not the Nineteens where you have to follow a person and have to know a girl before you approach her you can use a mobile dating app and finds a perfect match for you.  If you are single or mingle or want to have some fun Dating apps is the perfect option for you to give it a try.

 Finding the Best person is not so difficult in these days you can just visit these apps that I am going to list in the list of Best dating apps. We have conducted a survey and dig most of the user reviews to find the best free dating apps for Android. We have Our Special guest with us to Help us to determine which one can more useful for you, Result is at the end of the post.


This list of best free dating apps for Android consists of the top dating apps like Tinder to the uprising dating apps like Happn, Coffee with Bagel and more.
You can also enjoy music with dating apps for finding the best music streaming apps click here
Also, pay a visit to Most Trending apps for Android Mobile
The list of Best Dating Apps are
Here is the List of Best Free Dating Apps for Android
Coffee With Bagel
Not So popular app like Tinder but it's the best dating app for relationships in our stats. Coffee Meets Bagel provides you quality matches rather than quantity as compared to other dating apps. You will get an automatic match every day so don't have to swipe every day in search of perfect matches. These matches depend on the information you will fill like Age, Gender, Height, Interest, religion and more. The best thing about filling your personal information is that you will get an exact match like you are.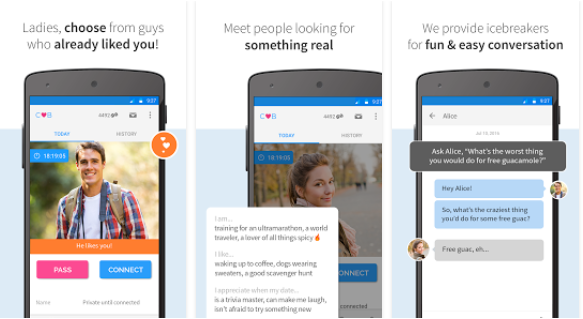 Coffee with Bagel uses your Facebook account for your profile but you don't have to worry about it no one came to know about this. You can only chat with other if you both like each other so your privacy is not in danger here. This app consists of in-app purchase for the fast result but you don't need to do that.
App Size 37 Mb
App Version 4.6
Compatible With Android 4.2 and Above
For Download it From Playstore Click here
Happpn
Happn is a mobile dating app which has more than 40 million users to find your perfect match. It is the best dating app to find your Local matches. When you crossed path with somebody their profile is starting mentioning on your profile if you both have a mutual like then you can chat with each other. Perfect opportunity for those who don't dare to make the first move even if you have an eye contact. If you want to get notice to someone you can send an "HI" it cost 1 credit luckily you got 10 credit when you sign in for the first time. And when the credits are finished if have to buy them but don't have to worry "Like" options are free and you can get the best result from it.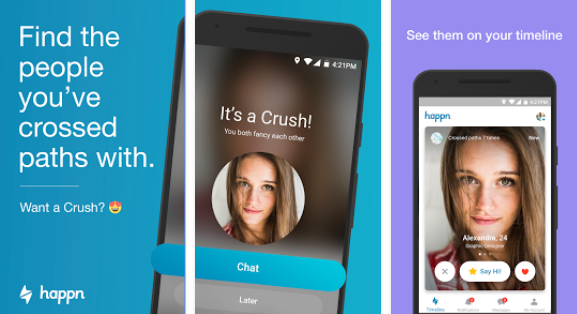 Happn is the best free mobile dating app for someone who wants a find a local person to talk and get around with. This app consists of in-app purchase as I already mentioned above. Just give it a try don't know if you find some local guy or girl who had a crush on you.
App Size Varies with device
App Version Varies with device
Compatible With Varies with device
For Download it From Playstore Click here
OK Cupid
Another dating app with 4.1 rating on the Playstore this app is a complete package of dating solutions. Ok Cupid provides you the chance to meet with someone who has the same passion like you. This app is not so different with the other apps but if you can't find the perfect match above you can try this app too. It is fully secure and doesn't let anyone messages you without getting the match. With Ok Cupid, you can find a perfect match you just need to try this.
Contains in-app purchase but you can use it free too.
App Size: 12 MB
App version: 10.4
Compatible With: Android 4.2 and Above
For download, it for Playstore Click here
Tinder
Tinder is the Most Popular Dating app in the list of best free dating apps fro Android in India we know you heard about it right. The reason behind the popularity of this apps is the Celebrities used this app or been secretly using this app. This app is simple and mostly like all these apps which are listed in this list of best dating apps for Android in India because some of them copied it. Tinder uses your Fb Id for connecting but never posted it like Rohit is using tinder Nah it's completely secure. The general Swiping method to like and dislike any person to like swipe right to dislike swipe left.
Tinder has a simple process to explain how it works? Just Swipe, Match, Chat, and Date.You can find the quality match here and let me tell you it's still the best dating app to find the best person in your life we don't care what anyone says.
Consist of In-app purchase but all basic features are free like the other apps.
App Size: 21MB
App Version: 8.6.2
Compatible With: Android 4.4 and above
To download it from Playstore Click here
Badoo
Badoo is the best dating app according to the user reviews and rating with 4.3 rating on Playstore. It is Somehow like Tagged if you ever heard the name. This app tries to be a more secure app by confirming your profile after you send your real-time photo to them. But we saw some fakers while examining the apps so this feature is somehow good. A little better than all the apps listed in this list of best free dating apps for Android in India. Badoo provides a information about a person who visited your profile which indicates that he or she wants to chat with you.
With a very different approach from all other apps in this list of best free dating apps for Android in India this app Badoo is a must try app. We recommend Badoo for fast results(if you are a boy). Even we got some result while examing this app.
Consist app-purchase and always let you to purchase something the most greedy app we must say.
App Size: Varies with device
App Version Varies with device
Compatible with Varies with device
To Download it from Playstore Click here
Our Verdict On Best Dating Apps for Android 
Tired of being single because of your shyness and want someone with you can share your daily activity, want to go for dating here is the best solution the dating apps. These five dating apps are the best dating apps picked by our experts. The perfect wingman in another language if you can say.
We recommend you to use Happn if you want someone lives near to you to be your wingman or bestman. Sometimes people prefer closed living partners.
We recommend you to use Badoo or Tinder if you want to find a quality match and fast result. These mobile dating apps are the future because with the development of technology the real life of a person is getting diminished.
Rohit, an Oxford computer science graduate, is a tech aficionado and vibrant blogger. His zest for all things tech shines in his engaging posts, where he blends academic insights with a genuine passion for innovation. With Rohit, readers embark on an exciting journey through the ever-evolving world of technology.