Procreate is a powerful tool that you can use to make your drawing and graphic designing work more enriching. Most of them were searching for a suitable program similar to procreate so we have decided to write a post.
It isn't added to your windows 10 so you have to download it from the other reliable that we have mentioned in this post. We have listed the best procreate alternatives for windows 10 that can you used on your pc.
Most graphic designer experts use these procreate alternatives to create a masterpiece for their own or for clients. Have a look at the alternatives of procreating for windows and pink anyone. If you want your pc more awesome then look at our post on rainmeter skins for windows
Best Procreate Alternatives for Windows
Here is the list of similar apps like Procreate that you can use for your windows laptop.  We have listed these apps for both beginners and professionals users to save their time. We have tested each app and invested hours in finding these free resources for you. Clicks on the download button to know more about any app and decide for yourself according to your needs.
What is Procreate?
Procreate is the widely powerful digital illustration app available for iPad and iPodsOs. It has a lot of artist features that why finding its alternatives is a tough job. There is a special spot of Procreate whenever we are looking for a similar app like it. It is widely used to create a natural drawing and sketching for both beginners and professionals. It consists of more than 120 brushes advanced masks and effective layers for drawing.
Why use Procreate Alternatives?
Procreate is most popular among iPad users but when it comes to Windows users it isn't available. Windows users need to have a similar like Procreate that's why we have created this post. When a curated this list of free Procreate alternatives app for all windows 10 users for a professional drawing experience.
Top 12 Procreate Alternatives for Windows 10
Autodesk Sketchbook
Autodesk sketchbook is considered one of the best Procreate alternatives and it is also widely popular among users.  It is mainly used for natural printing similar to Procreate.  It is free of cost software you just need to create an account for using all the features of Autodesk. This software runs on fullscreen and if you a touchscreen pc then it will more useful for you.
It comes with all the advanced brushes and masks to enrich your sketch experience. It supports Palm rejection in case you have a touch screen and working on drawing. Autodesk Sketchbook provides the same experience as Procreaes free of cost in Windows.
Prons
Works well with touch screen
Free to use
Palm rejection feature
Support Third-party canvas
Cons
Adobe Illustrator
Adobe Illustrator is one of the best tools used by graphics and UI designers to create the logo and UI design. It is also used for creating various vector illustrations, billboards, book designs, and Infographics.  Adobe illustrator deals with Vector and also lets you play with raster images just like Procreate.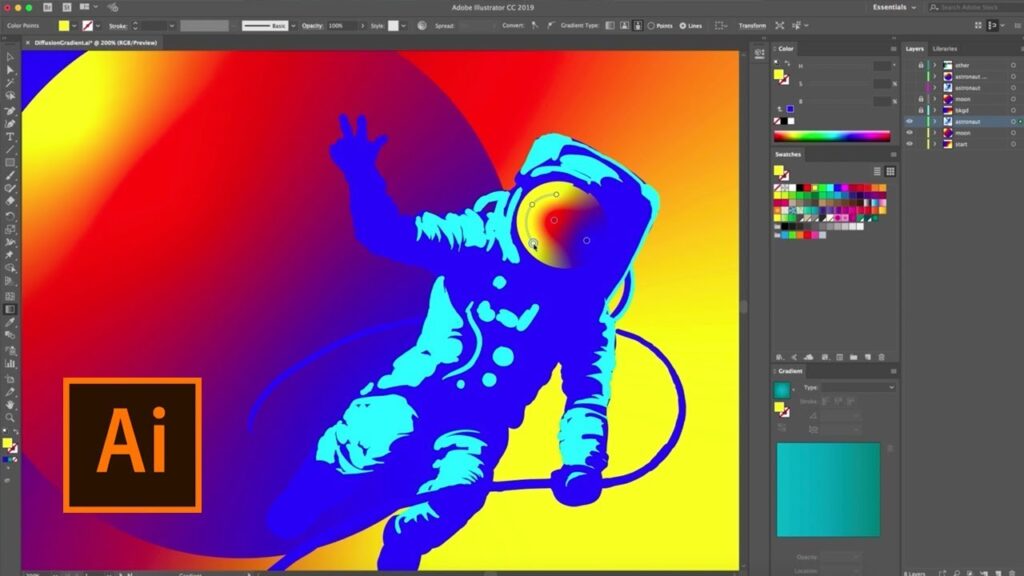 It has so many tools that will let you create a simple image, icon into some design masterpiece. Most professionals Graphic designers for creating small logos for large billboards.
Adobe Illustrator is one of the best alternatives that you can find in this list of best Procreate alternatives for windows.
Prons
Simple UI
Huge library of Tools
Variety of Typography
Cons
Krita
Krita is one of the best Procreate alternative tools that can you use in your windows 10. The developers of these tools always try to provide the best and clean UI to their users by giving regular updates. By using Krita tools you can create comic arts, hard illustration, and conceptual arts. It's a free and open-source software used by many professionals designers and digital painters.
When it comes to digital painting no one beats the Krtit feature and UI. The clean UI and digital painting features make it one of the best Procreate alternatives for windows 10 on this list.
Prons
Free to use
Open-source availability
Advanced tools
Supports Raster graphics
Cons
Coral Painter 2021
Coral Painter is another of the best procreate alternative that you can use on your windows 10 pc. If you are in the Graphic industry then you may have heard about Corel before. Corel Painter is a product of the same Corel which you used for making logos, graphics, and web elements.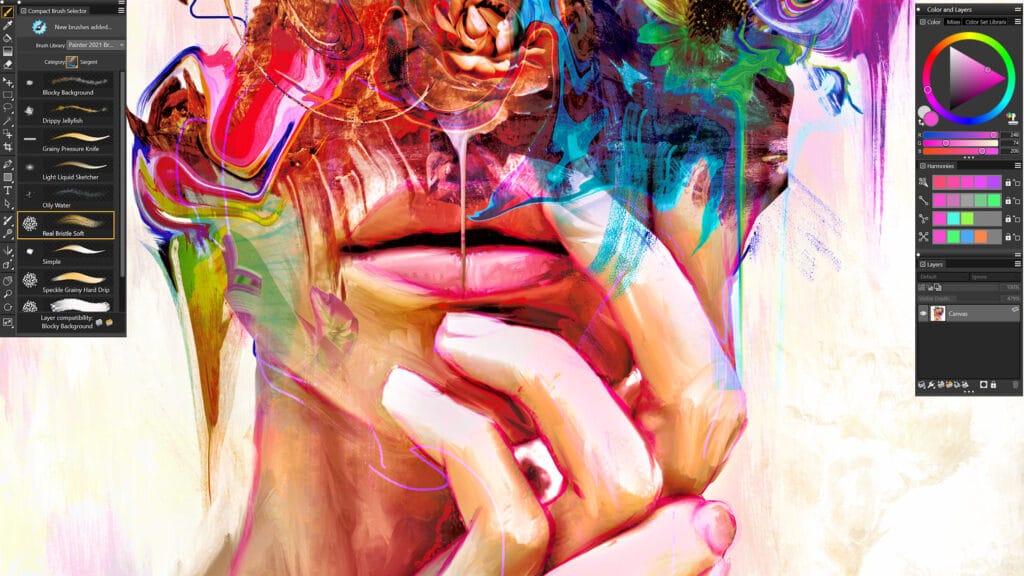 Corel has a huge library used by many professionals in the graphic industry. The library of Corel consists of huge numbers of 900 brushes with exclusive pattern pens, thick paintbrushes, particles, and much more.
Overall if you are looking for one of the best procreate alternatives as a beginner then this is the best tool for you.
Pros
Best for Beginners
More than 900 brushes
Lots of  Features
Advanced tools
Cons
Not much use for Professionals
Concepts
Concepts is also said to be a new illustrator for pc and a great Procreate alternative if you are looking for one. It has a huge canvas that is specially optimized for Surface Pen, and Surface Pro x similar you get in the Procreate. With the advanced tools and so many features is considered ot be a great choice for painters and designers.
It is commonly used for creating illustrations, designs, painting, and flat design. It is mostly recommended for touchscreen laptops as it has a huge canvas to draw naturally painting and designs. You will also many canvas options to switch from the background so you can paint different illustrations. Apart from this like other printing software, you will get all kinds of brushes, tools, pencils, pens, patterns, and layers.
Concept has all the features that you can consider in any procreate alternatives if you are for better painting software.
Prons
Huge Canvas
Best for Surface Painting
Advanced features
Flexible brushes
Cons
Experience differs by laptop
Affinity Designer
The app gives most of the features that you get in any professional procreate alternative tool. You will get all the graphic designer features used to create vector illustrations. It is not an easy tool if you are not a professional but will get easy if you know about it.
You can also create icons, illustrations, and other branding images, mockups, and other designing elements with the help of Affinity designers. It is used by most of professional graphics designers in the industry. According to us, Affinity ranks in one of the top procreate alternatives on our list.
Pros
Simple UI
Helpful in creating Vector Images
Best for Vector Images
Cons
Support is not that good
Mediabang Paint
Mediabang is another one of the best Procreate alternative specially used by manga and comic lovers. It is used by many professional and senior comic writers.  They have many dedicated features like 50 brushes more than 800 backgrounds and more than 20 font styles.
The app has cloud features that can help you to connect your buddies and you can work together. The app is basically free so you can work on it without any doubt. Most of the time beginners use this tool to gain experience in the manga and comic world.
Pros
Free to Use
Simple UI
800+ Background
Cons
Conclusion
We have listed most of the top procreate alternatives so you don't have to go anywhere else. We recommend using any of the listed alternatives according to your work.  This list is created by deep research and we used all the tools thoroughly.
Let me know which procreate alternative you are going to use from this list. Comment your favorite alternative from the list or the one you already used.
Rohit, an Oxford computer science graduate, is a tech aficionado and vibrant blogger. His zest for all things tech shines in his engaging posts, where he blends academic insights with a genuine passion for innovation. With Rohit, readers embark on an exciting journey through the ever-evolving world of technology.