Alternatives of Es File Explorer
If you are looking for Es File Explorer alternatives than you are on the right page. In this post, we are going to discuss Es File Explorer alternatives app. You will see one of the best file explorers for android and ios.
These Explorers have a user-friendly design and easy structure to used to. You can access your data and modify your file with the help for these. You can see all your internal and SD card data with it.
The EX fie explorer was of the popular explorer but it was facing some issues back then. You can also know about some good android file manager apps in this post. So here are some alternatives of Ex file explorer for you.
Files by Google is one of the easy and user-friendly file explorers to use. This is been considered as one of the best Es Explorer alternatives apps for android devices.
This app is very useful in terms of making storage free from unwanted and duplicate files. You can also see all your files and document in a separate column. The app also notified you if it detects any duplicate files.
This app lets you share any files right from the explorer for google users. You can easily share any file within a few seconds with this app.
This is one of the advanced file explorers you can get for your android mobile. After the Es file explorer file commander is one of the most used file explorers by users. It also provides security to the files and provides safer storage.
The security and privacy are what people attract towards file commander. You can hide any of the personal files in this app. It will be starting to ask for a password if anyone tries to access it. You can even hide in a secure place.



The file commander also lets you access the cloud storage option like Google Drive, Dropbox and other straight from it. You can easily upload your to data to any of these if your device storage starting to full.
This app also provides a clean user interface with all the advanced features that the File commander provides. It is also capable of integrating your file explorer with cloud space. The app provides fast data transferable speed to all the devices.
Apart from this, you can also upload videos from the file explorer straight to the Chromecast TV. This makes the file explorer as one of the best alternatives of Es file explorer.
You can also change the theme of the file explorer and make it more attractive. There is a privacy feature by which you can hide your personal files from others. The file becomes password protected and always ask for credentials when someone tries to access it.
This is one of the most used file explorer used for unrooted mobile phones. This is one of the most trusted files explore for both rooted or unrooted device. The user interface of this app is quite easy and handy.
There is built-in music and video player if you want to listen to any media from the file explorer. The app helps in transferring data with high speed. You can easily access and modify data within few clicks.
If you want some advanced features with a user-friendly interface and we definitely recommend you to try this app.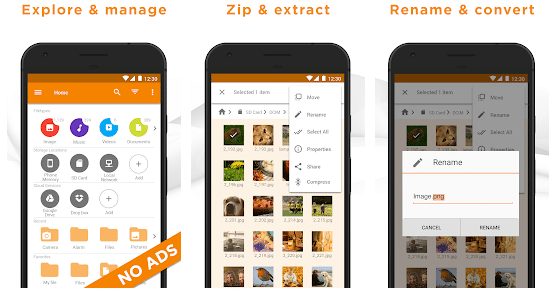 This file explorer is nothing but a gift you can say. You will get all the advanced features without any ad. You can say your flies in different views like image thumbnails or full file details.
It also lets you copy, move and delete files with ease. You can also share your data by directly sharing it from the Astro file Explorer.
Astro also lets you to compress your file than with move it or share it an option. You can compress it either in RAR formats or Zip format.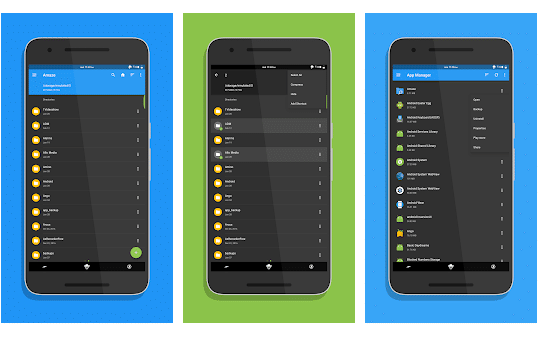 Amaze File Manager is a free file managing app that will let you view, copy your files for one folder to another. This app io an open-source app and it's completely free. If you can contribute then you can do at their Github account.
You can compress all your files then later move it to another folder or share it with your friend. This app also provides a very easy user-friendly interface.
If you Swipe you to your left side you will get the option to view your Videos, Images, file and other. There are also some useful features like sharing, Explorer and SMB(Windows). You can also navigate through your Sd card and internal memory easily.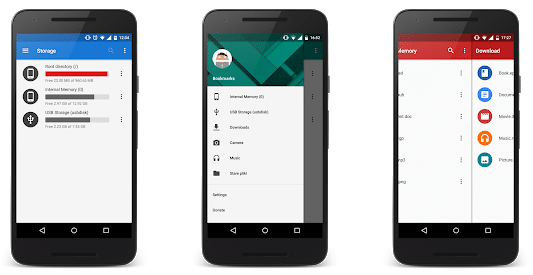 MK Explorer is also a looks alike like Amaze that has some different feature them it. It has an inbuilt image viewing function that will allow you to see images inside it. You can see your internal and external space within a click from it.
If you swipe to your left you can see the Downloads, Photos, music and movie option in your navigation options. This is a free app so if you want to donate then you got a Donate button of that.



This app has an easy user interface providing you an easy experience. It shows you a detail property view about the file or folder. You can also see the size and modified date of the file.
Our Verdict for Es File Manager Alternatives
I hope you guys like this post we have to share the best Es file manager alternatives for you. You can pick any of them all of them are great. You have had an issue or need more clarification on some file manager then you can comment below.
All the above file managers are tested before providing you this post. Also, let us know which file explorer you are using or going to use.
Rohit, an Oxford computer science graduate, is a tech aficionado and vibrant blogger. His zest for all things tech shines in his engaging posts, where he blends academic insights with a genuine passion for innovation. With Rohit, readers embark on an exciting journey through the ever-evolving world of technology.