I know you all know about Android Emulator For Sure if you are looking for this here but for your knowledge let me tell you What is Android Emulator? And What we can do with these. Android Emulators is the software by which you can run your Android apps on  Windows Pc so why do you want to use on your Pc or What are it's uses? You can enjoy your High processor speed and big screen of your Windows Pc.
Another useful feature of using Android Emulator is that you can Add multiplayer player and you can also add a Joystick or remote on your Windows Pc for more fun. Ios emulator for windows or mac is also available so that you can run any ios app on windows pc .
So Know come on the Main Topic there are lots of Android Emulators Present in the market so which is the best one, for our readers this time we come up with the list of best Android Emulators for Windows Pc and so on. If you are an Xbox fan than you can also read our post on Xbox one emulators.
Also, See 7 Best BlueStacks Alternatives 
 List of Best Emulators for Windows
Nox Player is one of the best Android Emulator which is based on Android 4.4.2 which provides all the basic feature and User friendly Interface. This Emulator provides a lot of features that make it a little bit complex but you can handle that easily. In the setting, you can switch between the amount of core processor or ram you want to use for Nox Player. There are also two graphics mode option provided by Nox Player such as DirectX or OpenGL.
It Comes with the feature of adding apps directly from the Google Play Store or you can Just drag and drop the apps from your Mac and Windows Pc. The Nox Player also comes with the Rooted Feature and allows you to play more than one app at the same time.
So here you can see How best the Nox Player really is and If you can Download it from Click Here
 

  2. Remix Os Player
Remix Os Player is another best Android Emulators for Windows based On Android 6.6 Marshmello. This Emulator works great with Android 86x  so beware before you install it. This free android stimulator provides all the basic and advanced features so this is a solid perfect Emulator you are looking for. Remix Os Player provides much free processing as it is very light in consuming ram.
When it comes to User interface Remix Os Player is very user friendly from any other Android Emulator and provides all the functions at the home screen for fast and easy access and also have Google Play Store option at the Home Screen to Install all the apps. Provides a special feature like playing many apps at the same time.
If you are the developer then you can do some serious stuff with this Emulator and Remix Os Player is the Only Simulator which is Based on Android 6.6.
To download Remix Os Player Click Here.
I know you all know or heard about BlueStacks before because it is one of the most famous and older Android Emulator that is based on Android 4.4 KitKat. Bluestack also has a much easier user interface and capable of sticking you with it.
Like Other Android Stimulator Bluestacks also gives you Inbuilt Google Play Store to access over 2 million apps and an advanced feature of playing more than one app at the same time.
Another advanced feature of BlueStacks is it gives you Live streaming option to your followers in BluStacks or Fb Live Streaming this is a unique feature as no other Android Emulators are providing that.
To Download BlueStacks Stimulator Click Here.
     

4. Ko Player




Ko Player is the New and still emerging Android Emulator for windows based on Android 4.4 KitKat. Like the other Emulator, Ko Player also has a Very User Friendly interface provides all the features at Homescreen. It is built to perform well for 86x thus it allows you advantages in performance, stability, and compatibility. One Special feature is it provides creating a live Ko Player video and uploading feature.
It gives the InBuilt feature of Gooogle Play Store which provides you to access more than 2 millions of apps as I already said above and drag or drops feature for a downloaded .apk file. You can also play more than one app at the same time as other Android Emulator.
To Get Ko player Android Emulator Click Here
     

5. MeMu
MeMu is yet another Android Emulators which provides you with a seamless experience of gaming on your Windows Pc and Mac with android apps. It is based on Android Marshmello but it comes with Android Jellybean so you have to upgrade it. It is compatible with Nvidia, Intel, and AMD so you don't have to worry which chipset you have before installing it.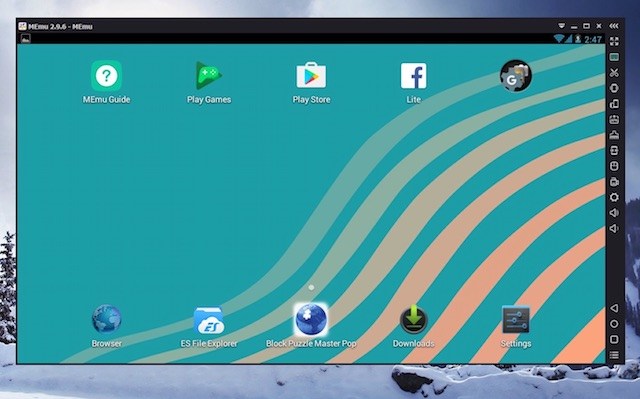 If we have to talk about the user friendly experience of Memu than yeah its very user friendly and you get all the basic functions at the right side of the Home screen, an inbuilt Google Play Feature to enjoy apps and a drag and drop feature just like other if you have download .apk file.
MeMu also provides the feature such as Keyboard Mapping, full-screen mode, screenshot tool, screen record and operational record to record anything while playing then you can share it on social media with Memu itself or from else.
To Download MeMu Click Here.
     

6. Amidous




Amidous is built and developed by American Megatrends a Georgia-based company. The Amidous also know as Duos requires Net Framework 4 and above if you have window 8 and above you don't have to worry about it cause it inbuilt in them but you are running windows 7 in your pc then you have to download and install Net framework 4.
Amidous is based on Android 5.2  Lollipop and does well in running the much important fact about Amidous is it does have the Google Play Store so you have to manage and install your apps in the form of the .apk file as a drag and drop option. It provides Amazon App Store and its doesn't match the standard of Google Play Store.
No Keyboard Mapping so that another loss you have to attach another Keyboard while Playing games the only thing it provides is Root .apk access you can access any rotted apps in your Mac and windows pc with the help of Amidous.
To download Amidous Click Here.
        

7. Droid 4x
Droid 4x is yet another Android Emulator which is based on Android 4.4.2 KitKat and provides you all the fun of playing games and running apps on the big screen. Talking about the user interface Droid 4x has much more user friendly Interface I mean it's too easy to operate and provide a fluidity experience while using.
Droid 4x provides you a Webcam feature which allows you to click photos and videos and store them on the local drive. Talking about the performance level Droid 4x let you use the half of your windows configuration like if you have 4 GB ram then it lets you use 2 GB ram for itself. This Android Emulator is Mainly for gaming and provides you a seamless gaming experience.
To get Droid 4x for your Windows Pc Click Here
        

8. Andy Os
Andy Os is another name in the Android Emulator world which provides you a best gaming and app user experience on the Big screen of your Windows Pc and Laptop. This Android Emulator is developing more and more over the years and if get bored from the other Emulators you should try this as it has the best and simple user interface and providing an overwhelming experience while using.
Andy Os is based on Android 4.2.2 but the interface is also more attractive with its mix of KitKat and Marshmallow and it's great to use. This Android Emulator is completely free but if you want to use for a Business purpose it is chargeable.
To get Andy Os for your Windows Pc and Mac Click Here
       

9. LeapDroid
LeapDroid is the most Powerfull Android Stimulator which is based on Android 4.4 KitKat and it comes with some pre Install apps like camera, Music, and Browser etc.  With the Home screen, you can download the most Popular games like Clash of Clans and Six Guns . You get the Pre Install Google Play Store by which you can Install numerous of the app in your Windows Pc and Mac and can enjoy playing them.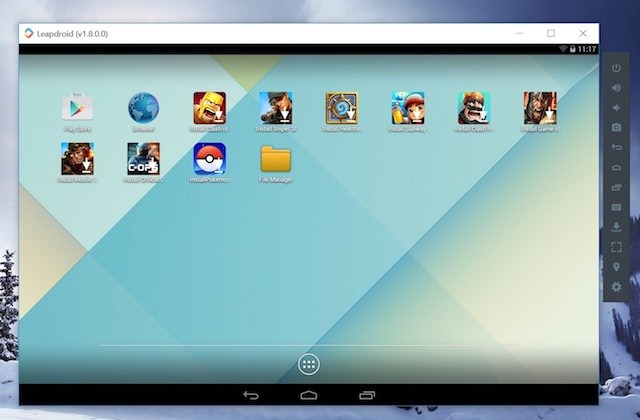 About Leap Droid is owned by Google last year but it did go so well they shut is down but don't go with this as the Leap Droid is the most powerful Android Emulator also provides seamless of experience while playing the big game with for graphics handling there are two mode OpenGL or DirectX and provides Keyboard Mapping too.
As the company shut it down the Leap Droid you don't get the customer and prior update but you can still download the Leap Droid from other sites but its still try-worthy.
To Get this Leap Droid Click Here
       

10. Bliss Os
Bliss is yet Another Best Android Emulator for Windows as it gives you a complete and seamless experience while playing apps on your windows pc either single or multiple. This Android Emulator is based on Android 8.0 Oreo highest on this list of the best Android Emulator for Windows Pc. The Bliss Os works well with built for 86x.
Bliss Os supports chipset from Intel, Nvidia, Snapdragon, and AMD. Compaitable in playing apps on any device like Laptop, Pc, Tablet etc. Bliss Os is not so good with its user to Interface it's a little hard to run but once you to know this you can run this more easily.
To get this Bliss Os for your Windows Pc Click Here
       

11. GenyMotion
GenyMotion is a great and most emerging Android Emulator for windows and it's in the development process but you can use it for your personal use. Before Installing it update your pc to the latest Bios present on the internet. GenyMotion lets you select between the two Android versions from Android 4.4 KitKat to Android 7.0 Nougat. It provides you the feature in free versions like GPS coordinates, battery level, and camera.
GenyMotion is a great alternative For the Bluestaks but overall this is preferable by the developer you can use it too but we recommend you to try another Emulator from this list of best Android Emulator for Windows Pc.
With GenyMotions you can easily play all your mobile apps on a large screen with great performance.
To Get GenyMotion for your Windows Pc Click Here
Our Verdict
Everyone wants to play video games on a big screen and thus everyone wants Best Android Emulator for Windows so here we provided the list of 11 best Android Emulator for pc. We want you to recommend Remix Os Payer and Memu but its totally your decision that which one you wanna pick and which are you using. So guys thank you for reading this and tell us which Android Emulator you are using and which one we missed in the comment section.
Rohit, an Oxford computer science graduate, is a tech aficionado and vibrant blogger. His zest for all things tech shines in his engaging posts, where he blends academic insights with a genuine passion for innovation. With Rohit, readers embark on an exciting journey through the ever-evolving world of technology.