Do you want to use iPhone emojis on your android phone then we have something for you? Yes, you can use iPhone emojis for android phones and able to chat with your friends with them.
Emojis plays an important part in your chatting as it helps to show emotions in your chatting. Some people only use emojis for chatting with their friends.
Emojis are used on every social media website like Facebook, Instagram, Twitter or even Whatsapp for a long time. People prefer to use emojis on chat or even commenting on a photo. Facebook also allows reaction with emojis on posts.



What special about iPhone Emojis?
Unlike an android phone Emojis, iPhone emojis are way more expressive and detailed. These emojis feel or relate so much with the conversation also, they have a large database of emojis for every expression.
Android phone emojis are comparatively less expressive and dull that why most of the users go with iPhone emojis for android phones. People also got bored by using the same emojis and therefore switch for others.
How to get iPhone Emojis for Android phones?
The iPhone emojis are joyfully and people love them sharing around. If you want to use it in your android device then we have shared two ways to do that. You can either do by following some hack or just install the emoji app and keyword to use it. Follow the below guide to get iPhone emojis for android phones.
You can also look for an android emulator and Ios emulator for your android or ios device.
Changing the Font
You can do this without wasting your time on rooting your device. This will let you hand on the new iPhone X emojis within few clicks.  Every User interface is using its own default fonts in its mobile.



Xioami, Samsung, HTC and more provide the feature of changing the default theme in their Ui without rooting it. You will need the android version 4.4 or above version to have this feature. Follow each and every step to get the emojis.
Go for the setting then security and then tick on "unknown source". This will let you install apk from any other source than the play store.
Download and install the emoji apk font from the below link if it is not working then comment below.
Change the font of your android mobile phone to the emoji apk one.
HTC users = Settings > Display and font
Samsung users = Settings > Display and gesture
Xiaomi users = Settings > Display and Font
4. Check if your keyboard supports the emojis font or not.
5. Go for Google keyboard if the fonts are not supported in your keyboard.
6. Congrats now you can iPhones emojis on your android device.
iPhone Emoji Keyboards for Android Phone
If you want knowkeyword than you can go with one of these keyboards to get iPhone emojis. This keyboard supports Iphones emojis and lets you use them with ease.
GBoard
GBoard is an android keyboard by google used to many android mobiles by default but if you didn't get it to default then hit the play store. This keyboard provides so many languages supports and also has a user-friendly user interface.
Swiftkey
Yet another one of the most used android keywords you can use to have Iphon emojis on android phone. With it great prediction and autocorrect feature it's been ruling the best android keyboard chart for like forever.
Fleksy
Fleskywas considered as one of the fastest keywords that you ever have. It also has a good prediction and autocorrects feature that is continuously become more and more good. It also syncs with your regular typing to get the correct prediction.
Get iPhone Emoji from Emoji Switcher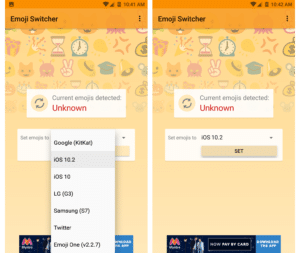 This only works on the rooted phone so you have to root your device to make it work. This method has a more promising result than the above method. Using this method will change your android emojis into iPhone emojis and make it more attractive.
Download and install the Emoji Switcher app. Grant the root permission if it asks for.
Select Ios 10 from the other option you faced.
Wait till it installs the emojis a completes the process. Go for the restart after completing the process.
You have now successfully got the new iPhone emojis on your android mobile.
Our Verdict on iPhone emojis for Android
We have used and tested both the way above for iPhone emojis and are working. You can use either way but it depends wither your mobile rooted or not. The rooted way is quite simple and provides many other features. There are a lot of methods are available to use emoji on android but the above ways are quite simple and secure.
You have to follow the methods precisely to have iPhone emojis for android phones. But If you face any issue in the steps or in apps then you can comment below with your query.
Rohit, an Oxford computer science graduate, is a tech aficionado and vibrant blogger. His zest for all things tech shines in his engaging posts, where he blends academic insights with a genuine passion for innovation. With Rohit, readers embark on an exciting journey through the ever-evolving world of technology.